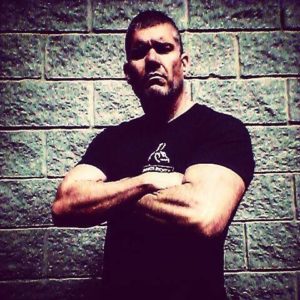 Mistakes are always forgivable, if one has the courage to admit them.–Bruce Lee
I remember as a kid growing up I started out playing baseball. My dad would take me to the park and hit fly balls to me for what seemed like hours as I would run from one side of the field to the other to chase them down. This was a far cry from today where kids would rather spend those hours on the X-box at home sitting on the couch.
One thing my parents always instilled in both me and my brother was hard work…and smart work! You see  both me and my brother grew up working at my dad's service station which he still has today. We would spend long hot summer days working on cars, doing oil changes, brake jobs, changing tires, pumping gas, washing trucks, and doing just about anything else that needed to get done.
The hours were long and the summer days were unforgiving with the heat. Since both me and my brother played football and baseball we would work between sport seasons as much as possible and would even continue on some time during college.
After our athletic careers were over we would still find time to hit the weight room 5 days a week. It was literally a schedule of work, train, eat, shower, bed, and repeat. Even though I had a fairly solid athletic career my sport playing days were cut short at the beginning of football my senior season due to having suffered a traumatic knee injury in the season opener.
Once again I had to do some soul searching as to what I wanted to do with my life. I charged through physical therapy and got my knee better and went on to attend UGA. I had aspirations of coaching and teaching so I had enrolled into the School of Education. During college I had kept a solid base with my pursuit of strength and found myself regularly falling back to read different books on bodybuilding and strength training.
Even though I had completed up through my 3rd year of college in the School of Education at UGA I was unhappy. I really just wanted to coach and wasn't that enthused about having to sit in a classroom all day long just to coach a few hours at the end of the day after school. Don't get me wrong, there's nothing wrong this and we need good coaches and teachers, but it just wasn't for me.
I also wasn't happy in the School of Education at UGA because I found myself having a strong disagreement with what they were teaching in their curriculum. It wasn't as much about truth and history as it was about victimization and a sort of indoctrination.
So even though I was facing the loss of 2 years worth of credit for changing my major I did it anyway. I literally made a strong statement to the School Education by telling them to basically shove it and walked across the street to the School Of Health And Human Performance. I was as happy as I could be.
Fast forward to graduating from college and I started training at a Gold's Gym in Lilburn, Ga. It was strictly a commission based pay job and boy what a wake up call. Nobody wanted to commit to anything on the client side and the money was scarce. Once again I felt I'd hit a road block in my life.
During this time I was able to connect back to my roots at UGA by contacting a good friend of mine Bryan Pulliam (current Georgia State Director of NSCA)  who was at the time an assistant to the strength and conditioning program at UGA for the football team. At the time Dave Van Halanger was the head strength coach and Bryan had put a good word in for me to volunteer to come down and meet with him.
Coach Van Halanger was very kind and allowed me to come to team workouts to gain more experience of the program and to work with the athletes at the D-1 level. This was exciting.
At the time this was going on I was also looking at another coaching facility that existed at the time in Gwinnett County. They specialized in athletic performance development for athletes of every kind. The program was headed up by Gary Schofield (the current Southeast Regional Coordinator for NSCA) and we would train athletes for performance regardless of their sport.
It was here that I gained vast experience in plyometric training, speed, and agility training. This sort of completed the model for what I could combine with my current strength program. I would eventually move on from this job to start my own business.  And in 2009 the Brandon Richey Fitness site was published.
---
Follow Brandon Richey to Fitness!