The CobraZol Sport Review & More
It has been a rather eventful couple of weeks to say the least. If you've been following this blog for a while then you know that I do occasionally write product reviews, but ONLY if the product is one that can fill a gap for me, or if the product happens to be in a position to meet a need that I have in either my own life, or with the lifestyles of those around me. Over the past few weeks I had a need and the circumstances surrounding the way I got help were very interesting.
The Need
First of all, I had come off a crazy several weeks of training mixed with easing back into some heavy Muay Thai practice in an attempt to get some of my female fighters conditioned for fight performance. During this I also managed to include a bit more heavy squatting and deadlifting into my overall training equation. Let's just say that my body was going through a good little period of soreness and discomfort.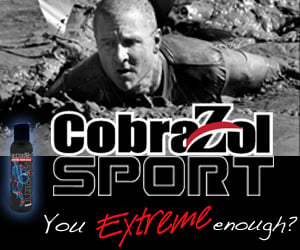 During the initial shock of these physical challenges I woke up one morning over the weekend with a serious restriction in my hip. My hip flexor on my right leg felt like it was tied into a knot and I couldn't get a full standing ROM out of it whenever I stood up from a seated position.
Of course I worked on the typical protocol consisting of a series of manual therapy/massage and stretching exercises to try and get some relief, but the muscle was still very sore…and very stubborn. I normally don't have such soreness like that to just linger. This sort of discomfort was just hanging around a bit too long even for my taste.
During this time a good friend of mine who is the COO of a local company here in Buford, Georgia gave me a sample of one of the products they produce that is a topical pain relief gel. The CobraZol Sport product was a roll on type of solution for eliminating such pain.
He was swearing by it and told me to give it a shot. I took it home and quickly applied it to the aching muscle on my hip and presto the pain was gone. When I say presto I mean for me it didn't take 30 seconds and I noticed all the soreness literally disappeared in that very moment.
My Examination
Now you probably know me well enough by now to know that I'm normally very resistant to taking any form of medication or pain reliever, but if you don't happen to know me that well then those that do know me will tell you straight up that I don't like leaning on pain relievers in general for much of anything. I mean I really have to be experiencing some discomfort to do so.
Nevertheless when it came to the CobraZol Sport I didn't mind as much because the other interesting thing about this little product is that it is a non-narcotic! Yes, you read that right. It's a homeopathic formula and it's also odorless.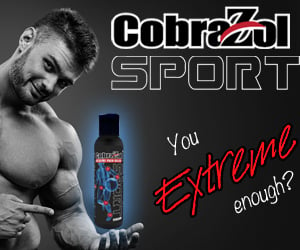 Since I had such a positive experience with the product I asked my friend if I could have some more samples to test with several of my students and competing athletes. I wanted to get a larger sample of feedback from several other people as well besides just coming to you with my own experience.
What I found was that several students and other coaches/trainers loved the results of the CobraZol Sport as well. The feedback that I got sounded very much like what I have shared with you here with my own experience.
I know you've probably had a chance to use some of the other topical gels for sore muscles and I'm sure you usually end up getting everyone's attention around you when you walk by because you probably ended up smelling like a chemistry lab. I really did like the fact that the CobraZol didn't have any smell to it whatsoever.
The only other thing I would be curious about in regards to this product is if it also comes available in a cream, or roll on as well. The cool thing is that I'm told that is actually something that will be in the works.
As a matter of fact I think it might eventually be available in a spray option as well, but don't quote me entirely on that statement.  I was pleasantly surprised by the result of CobraZol and literally thought it was worthy of a product review based on my personal experience with it.
After all, this gel didn't contain any of the other elements I've experienced with other topical pain gels such as that cold feeling from certain agents to mask pain, or any unwanted residue from applying the substance to the skin.
Just to let you know I did not get paid for this review and you know I'm being sincere when I say that, but I mentioned in the first paragraph that the past few weeks have been rather eventful. This has definitely been the case.
After speaking with my friend who happens to be the COO of the company that makes the CobraZol Sport I told him about my personal experience, as well as the feedback from my students with the product. Because of this there have been some interesting developments to come to light recently.
Of course he was more than pleased to hear about my positive experience with the product (as well as my students/colleagues) and this review…and because of that there is going to be more to come out of the relationship between the CobraZol Sport and the BRF brand! Stay tuned for more exciting news in this arena coming to a laptop or small handheld device near you!
As usual stay strong, keep training smart, and don't give in to having the victim mindset.
Related Articles:
A Quick Review Of Dragondoor Kettlebells
Strength Investments You Can't Pass Up
Get Free Updates And Training Guides Here